UNO Men's Basketball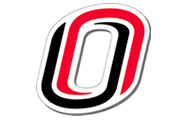 UNO enters its second year as a reclassifying Division I institution and will begin play as a member of the Summit League with a full regular-season conference schedule.
Coach Derrin Hansen enters his eighth season at the helm of the Maverick program, boasting a career record of 121-86. The Mavericks return seven letterwinners from last season, including four starters in senior Alex Welhouse, juniors John Karhoff and Caleb Steffensmeier and sophomore CJ Carter.
Season Tickets
Call 402-554-MAVS (2161) to learn more about Season Tickets.
Single Game Tickets
To purchase single-game tickets, visit www.homepridetix.com.
Group Tickets
To purchase group tickets, call Jason at 402-554-4993.